So, a while back (like, we're talking a solid five years ago here) I decided that I might get back into RC Racing full-time.
I felt that at the time, I had reached a point in my life where I felt that perhaps I was comfortable enough to be able to wear the expenses of racing once again. This time around though, I'd do things a little differently. I was going to go full-send into the world of RC Racing with a brand-spanking new (and now, as of the time of writing, two-generation old) Yokomo YZ4-SF, built to take on the Modified class at West Coast Model RC, Western Australia's most well-known RC Track. At the time, Perth RC had shored up parts supply for this particular kit by means of securing the Australian distribution rights to Yokomo and Futaba, amongst other things.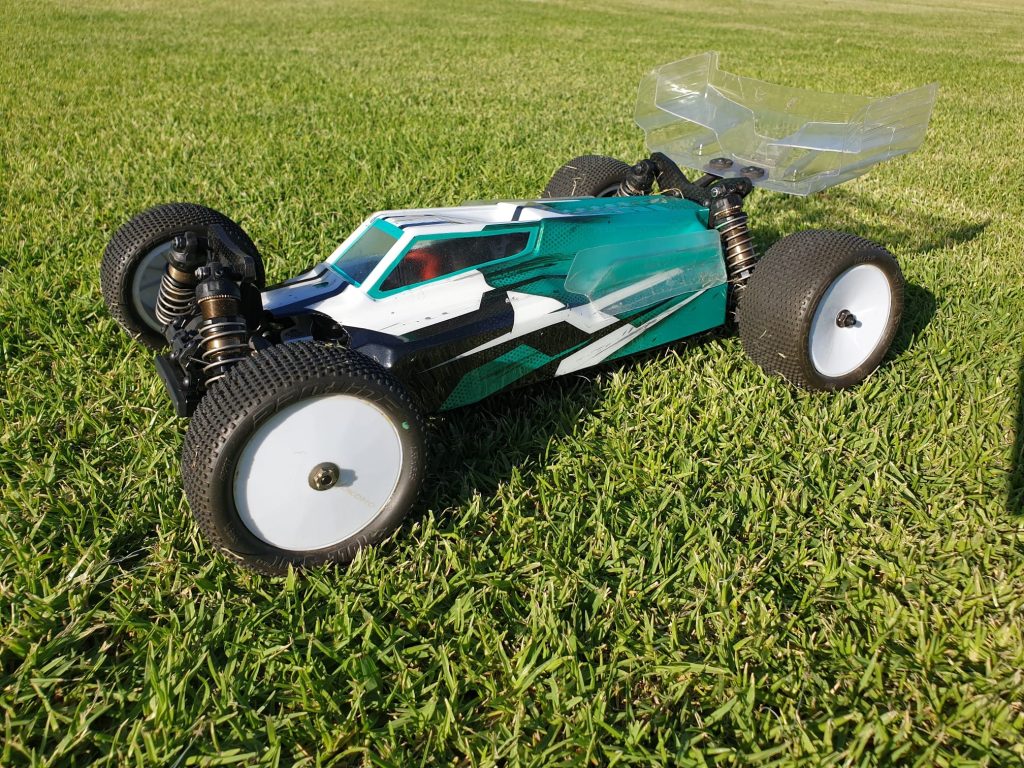 This was the end result. It's nimble, it goes like an absolute cut snake thanks to a 6.5t Brushless motor, and its ability to handle a large variety of different surfaces makes it quite possibly the best buggy i've ever purchased. I mean…it better be, for almost $2500 all-expenses included.
There were two glaring issues with this kit. The large bulk of the thing was built like an absolute tank. Aluminium shock tower supports, aluminium chassis with CF Nylon side plates, a unique design which combined a Carbon fibre and CF Nylon spine which ran down the length of the chassis to reinforce it, and floating diff mounts gave this car an incredible level of adjustability and strength. Where this car was let down however was the arms.
Yokomo chose to use a high-carbon content in the plastic of their arms to maximise stiffness and reduce overall wear, which when combined with the design of the arms themselves, where only the outer sections of the arms were reinforced, resulted in the inevitable…
The shock caps were also a notorious weak point, but Yokomo already had a solution for this, in the form of the optional BMAX-III X-Shock optional caps. This buggy took quite a bit from the earlier BMAX, in particular it retained its shaft drive design, whilst also combining existing elements from the Astroturf-focused YZ-4 Belt version, such as the floating differential mounts.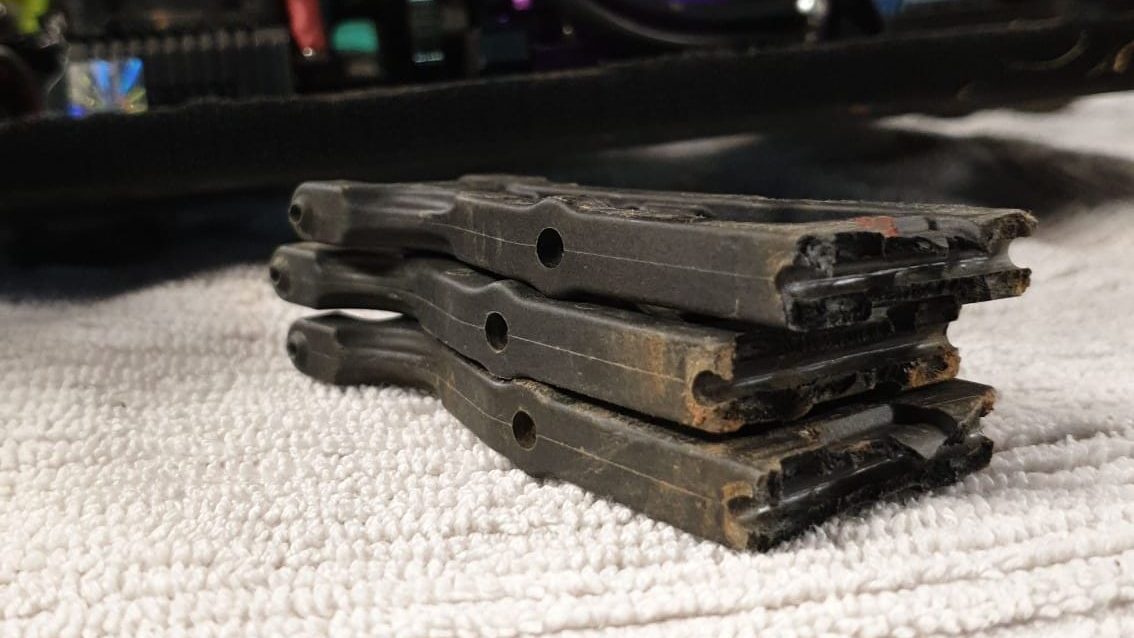 This common issue unfortunately resulted in this buggy in particular, being lovingly called the "Brokomo", mostly because of A: my hamfisted driving sending many a front arm to the shadow realm, and B: Because if I kept on going at this rate, this buggy would quite literally send me broke.
So, I clearly had to do something about it. So I cracked out a set of vernier calipers, took some measurements, created some CAD files, and sent them off to a good friend of mine in China, who came up with these for me.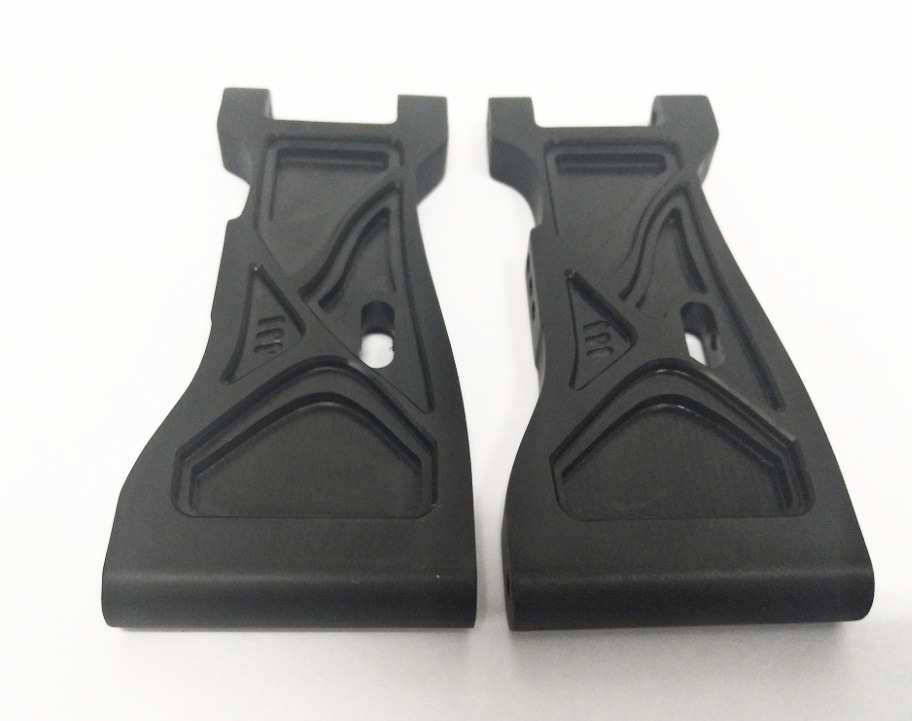 They look solid enough, right?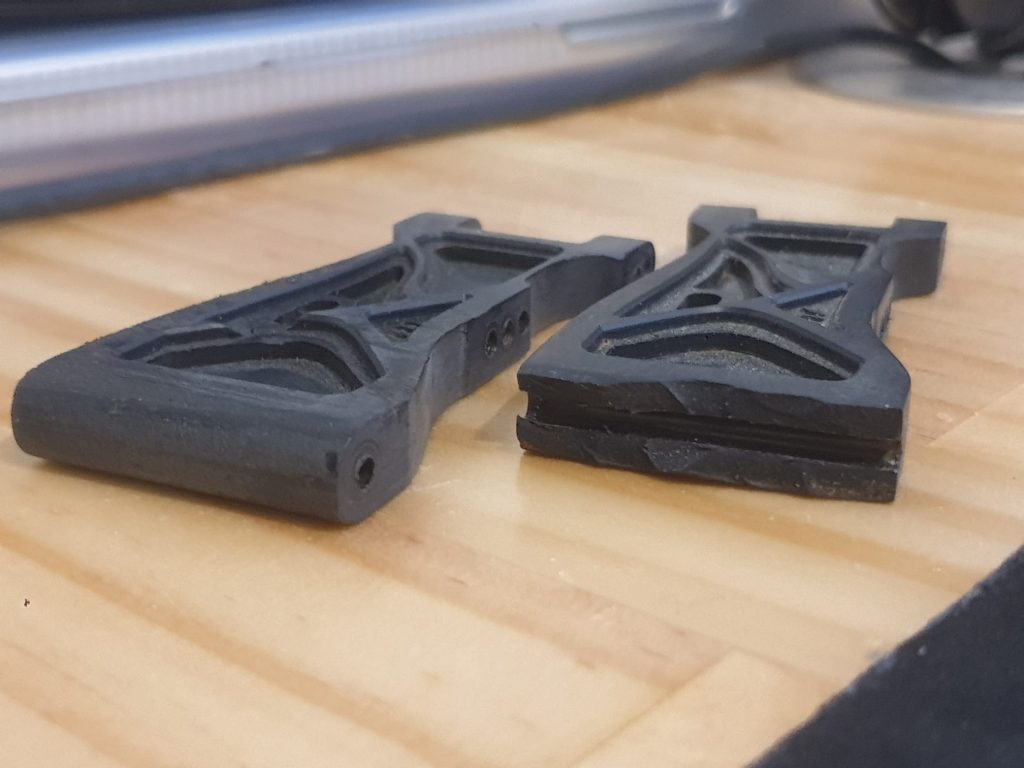 Well… Yeah. Inevitably, even thickening the support around the rods, solidifying the arms themselves and using Delrin (a stronger plastic overall than Nylon) wasn't enough to save me from absolutely obliterating one of my beefed up new arms. In fact, they broke around the very spot that would typically break on the originals, in an even more catastrophic way. Those breaks look clean and crisp, which meant that the hit was hard enough to shatter the part. I don't have the ejected fragment anymore, but I remember it breaking into two seperate, cleanly broken parts. In all honesty? If I had to redesign these again, i'd be incorporating a Chamfer to basically allow the arm to have a little roll-up before it had the chance to break. In fact, that's precisely what I did here.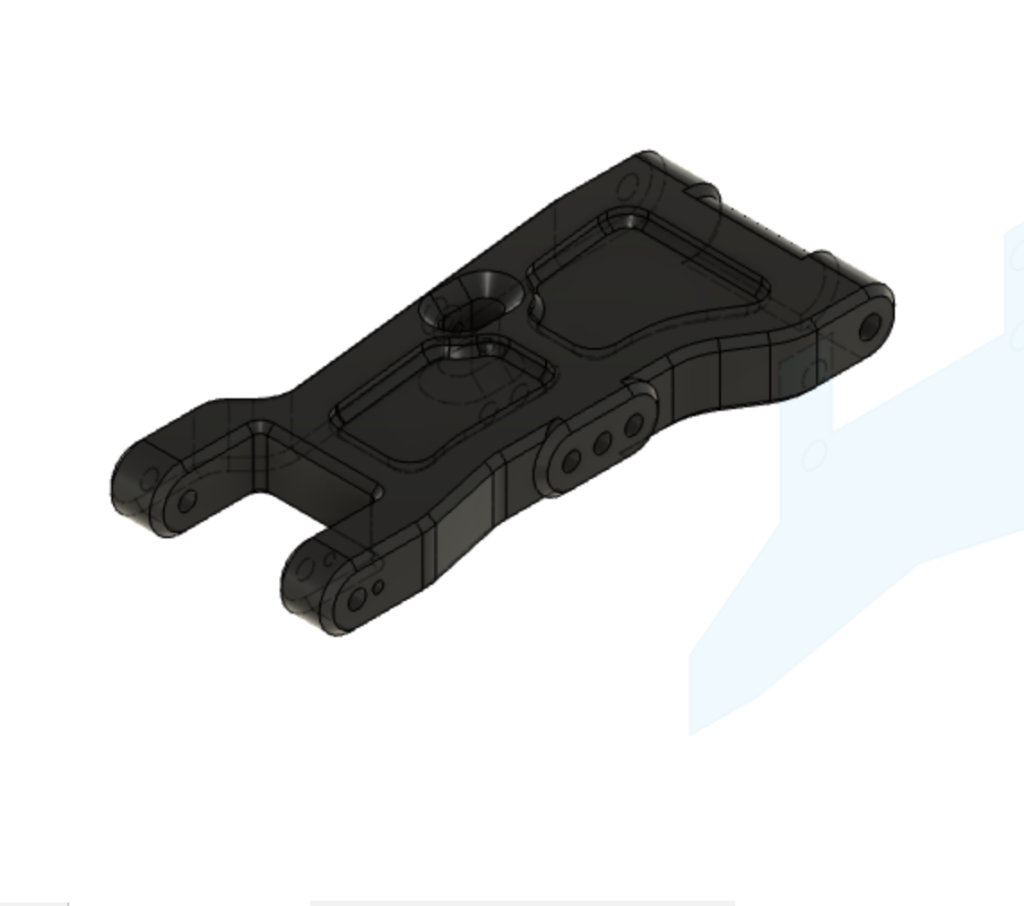 Now, of course i would need to eventually figure out how to make these. I have potentially thrown down for a 3D printer which could theoretically also double up as a CNC machine and Laser Cutter, so this will give me multiple options for how I would go about producing such a part, however the real question is, now that this buggy is over five years old, is it even a needed thing? Well, I guess this could be the beginning of yet another open source buggy project, but let's be real here. How many of those are currently out and about at the moment?
I think what this project has done for me was to teach me how to use a CAD software package (In particular I used Autodesk Inventor and currently use Fusion 360 on my Mac) and more importantly, convinced me that i really enjoy the process of making things, so much so that I decided to finally pony up and as previously mentioned, buy a 3-in-1 3D manufacturing machine, which I'll likely post about here as well when that finally comes in (Hopefully at the end of May 2023.)
In the meantime, I am still working on generating parts for this kit. I've generated a Shock Tower, steering rack assembly, and will eventually generate the uprights, suspension blocks, chassis plate and eventually have enough components to generate an entire buggy. Who knows, I may very well end up with a new kit after all, ship of Theseus style.
Until then, the YZ4 was just another flash-in-the-pan moment for me. I am still trying to reclaim the fun that I had back in the day when it comes to RC. I am doing so with other kits, so let's see how this goes for now.
Beano out.